---
Naples
Elite
Soccer
Club
Announces
Official
Club
Partnership
with
Inter
Miami
CF
[NAPLES, FLORIDA, October 2023] Naples Elite Soccer Club is proud to announce its official Club Partnership with Inter Miami CF. This partnership marks an exciting milestone in the development and advancement of youth soccer in southwest Florida.

As part of this partnership, Naples Elite Soccer Club is committed to acting in the best interest of its players by prioritizing their development and advancement. The club will actively facilitate and support the promotion of its top talents to the renowned Inter Miami CF Academy. Transparency will be a key element, as the Partner Club will recommend their top talents and inform Inter Miami CF if a player considers an offer from another professional club.

Furthermore, Naples Elite Soccer Club will provide Inter Miami CF with the contact information of its members, allowing Inter Miami CF to utilize it for marketing purposes and outreach. It is essential for the Partner Club to maintain a good standing with all USSF affiliations, ensuring a strong and reputable partnership.

Vincenzo Bernardo, President of Naples Elite Soccer Club, expressed his enthusiasm for the partnership, stating, "We are thrilled to enter into this official club partnership with Inter Miami CF! This is great news for the development of local talent in Southwest Florida. Our club aligns itself with true player development and the growth of the overall sport of soccer. Partnering with Inter Miami CF will provide our players with unparalleled opportunities to learn, grow, and showcase their skills at the highest level."

The partnership between Naples Elite Soccer Club and Inter Miami CF represents a unique opportunity to promote the growth of soccer in Southwest Florida and cultivate a thriving soccer community. By joining forces, both clubs are dedicated to providing young players with the necessary resources, training, and exposure to reach their full potential.

The partnership will also feature community club education events, anticipated to take place twice per season. Naples Elite Soccer Club will have exclusive access to Inter Miami CF Academy training sessions and games, offering its players and coaches invaluable exposure to top-level training and competition.

In addition, Naples Elite Soccer Club directors will receive invitations to attend MLS home matches. This opportunity allows club directors to witness the excitement and skill displayed by professional players in a competitive environment, fostering a deeper understanding of the game.

Inter Miami CF is dedicated to the comprehensive development of players in all positions. As part of the partnership, Naples Elite Soccer Club will have access to Inter Miami CF's player talent identification and development program, providing specialized training and support to aspiring players.

Naples Elite Soccer Club will have the privilege of participating in Inter Miami CF tournaments and events, offering its players the chance to showcase their skills on a larger stage and compete against other talented teams.

Naples Elite Soccer Club is thrilled about the potential of this partnership to shape the future of youth soccer in our region. The collaboration between both organizations will create a clear pathway for young players to reach their full potential and pursue their dreams of playing at the highest level.

About Naples Elite Soccer Club: Naples Elite Soccer Club is a premier youth soccer club based in Naples, Florida. The club is committed to providing a positive and nurturing environment for young players to develop their skills and passion for the game.

About Inter Miami CF: Inter Miami CF, commonly known as Inter Miami, is a professional soccer club based in Miami, Florida. The club was founded in 2018 and began playing in Major League Soccer (MLS) in 2020 as an expansion team. Inter Miami is owned by a group of investors led by David Beckham, a former professional soccer player.
# #
---
*
Missed
Our
Tryout?
Signup
Below
and
we
can
have
a
coach
reach
out
to
setup
an
individual
tryout
ID
CLINIC
REGISTRATION
2017 - 2010 ID Clinic Registration

---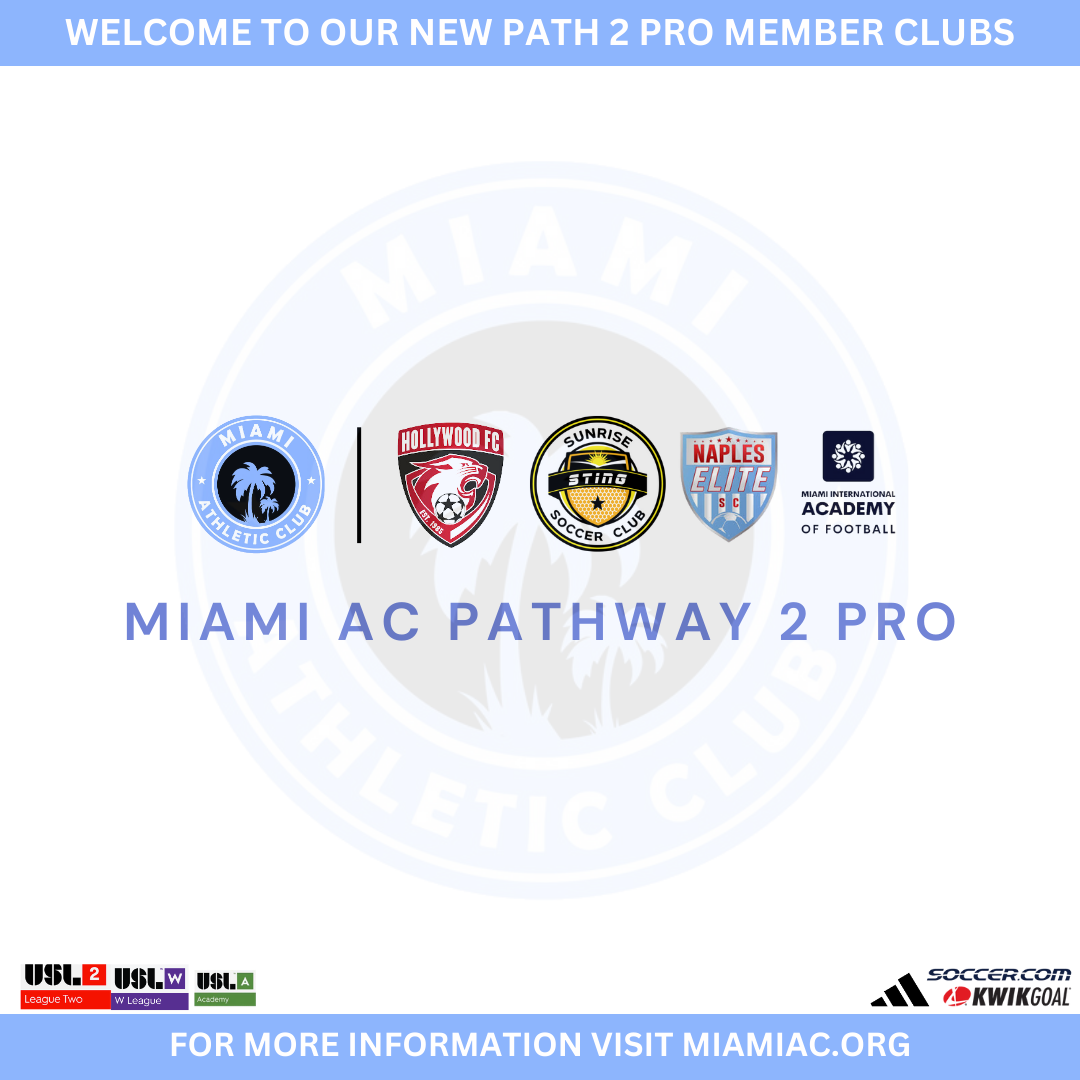 Miami
Athletic
Club
Develops
Pathway
2
Pro
–
Strategic
Club
Partnership
Program
[MIAMI, FLORIDA, October 2023] Miami Athletic Club (MAC) has announced that they have created a new youth player pathway program designed to work with local soccer clubs to help promote player development, collaboration and an effort to develop a community friendly pathway into the pre-professional playing opportunity within the USL League Two and W League! The "Pathway 2 Pro" (P2P) program will allow Miami AC to join forces with top local youth clubs in Miami and throughout South Florida! The P2P program has planned to develop a program that creates a unique, progressive and authentic pathway for players looking to compete at an extremely high level opportunity within the US Soccer and United Soccer League (USL) ecosystem! Miami Athletic Club is excited to develop this program and believe that this community club program is built on the following pillars:
Player Development
Quality Competition
Player, Team, and Club Opportunities
Leadership and Professional Development
Professional Collaboration
We believe these pillars will provide players with great access to the most professional environments and also offer local soccer clubs great resources to be able to provide to their membership, but also support the local USL club developed to offer top level pre-professional soccer opportunities for the top players in the community!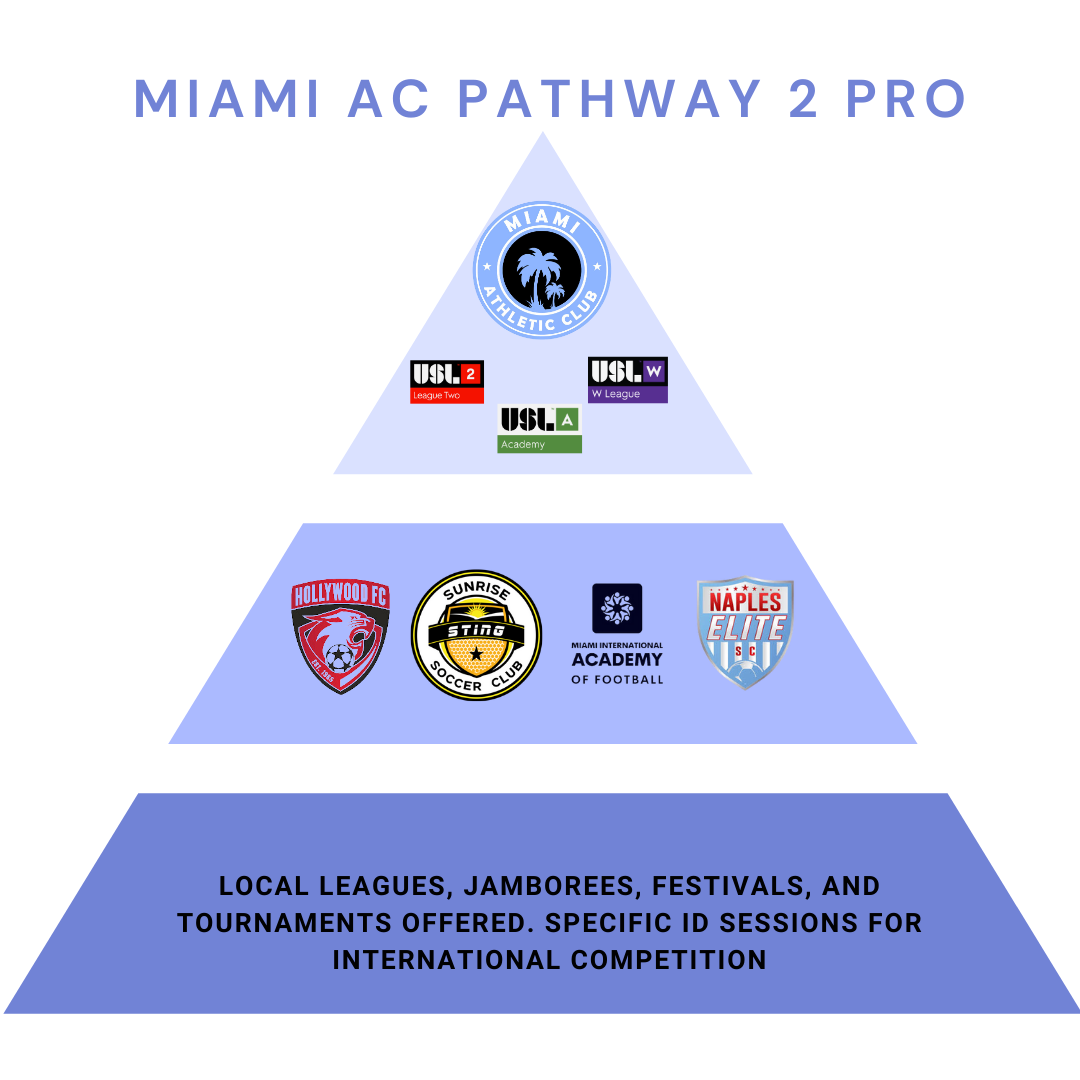 "We would like to thank our local club partners for their collaboration in this exciting new program." Mayowa Owolabi, Miami Athletic Club Founder & President, said. "We now have a true pathway for player development that will excite and motivate players to follow their dreams of professional soccer. Our goals are to identify top talent in South Florida, provide players with a supported development experience, and sign Homegrown players through to our USL League model opportunities with Miami Athletic Club and beyond!"
Miami Athletic Club has been able to develop great BRAND awareness and extremely competitive teams competing in the USL League Two and W League! The Miami AC P2P program will ensure that top players in the region will be identified at an early age and are supported in their development that begins with local recreational leagues and advances to Miami AC partner clubs, the Miami AC USL Academy team, and ultimately the USL League Two and W League first team rosters. These teams will have a variety of different opportunities, such as international competition (travel and hosting), exhibitions vs National Teams, combine and showcase opportunities, organized tournaments and friendlies, and exceptional college recruitment resources.
Through the partnership, players with affiliated clubs (Sunrise Sting Soccer Club, Hollywood FC, Miami International Academy of Football, and Naples Elite SC) participating in the Miami AC P2P program will work with top coaches on their journey to the professional ranks. They will train alongside some of the best players in the region and participate in elite youth tournaments like the Gothia Cup, Homestead Cup, Adidas National Cup, Disney Showcase, Florida College Showcase, and other top events and tournaments.
Based on performance with their individual clubs, players will be invited to specific training sessions with other high-performing players from other P2P clubs and the Miami AC USL Academy. They will get the opportunity to play with the best players in the area in order to compete at the highest levels of youth soccer through to pre-professional soccer.
The program will also serve as an opportunity for coaches in the area to collaborate with the Miami Athletic Club technical staff and guest coaches/educators in order to maximize their impact on the development of participating players in the P2P program. Area coaches will also gain increased access to Miami AC USL team training sessions along with coaching resources to aid in youth development.
In addition to these great player opportunities for all P2P clubs this Club Partnership program will also provide these clubs with other offerings such as; Director Sessions led by Miami AC Technical and Administrative Staff, invites into our Partner Club Network Discovery ID sessions for top players, assistance to develop unique club specific curriculums, coaching education sessions, season tickets to the USL League Two and W League seasons, opportunities to ball boy and girl, walk out with players for national anthem, halftime show games, autograph sessions, economics, any many other benefits.
See what Club Directors have to say about this new opportunity:
Caue
Rodrigues,
Sunrise
Sting
Soccer
Club
–
Director:
"Sunrise Soccer Club and Miami Athletic Club have entered a partnership to align the two entities. This agreement strengthens the presence of the club in USL W and USL Academy. MAC operating out of Miami Dade-County , offers competitive programming for youth soccer players boys and girls. The aim of this partnership is focused on the development of young soccer players & to provide additional resources on and off the field. Both clubs share the same vision and we are thrilled to be able to secure an agreement that will see us working together to the benefit of the players"
Tom
Tianich,
Hollywood
FC
–
Executive
Director:
"Hollywood FC is thrilled to partner with Miami Athletic Club to provide an exciting new pathway for our players to advance to the highest level of soccer in the South Florida market. Hollywood FC players will gain a unique opportunity to develop and advance their careers as well as provide them with a valuable opportunity to play at a higher level and gain experience in a professional environment. Additionally, it will give Miami AC access to a pipeline of talented pool of players to continue to build a strong team and compete for championships in USL League Two. We are confident that this partnership will be beneficial for both of our clubs. Together we are committed to providing our players with the best possible opportunity to succeed, and we believe that this partnership will help us to do that. The partnership will begin immediately, and the first group of Hollywood FC players will begin trying out for the USL Academy Team in the coming weeks."
Marlon
Aguilar,
Miami
International
Academy
of
Football
–
Director:
"The Pathway 2 Pro program will be integral to our player development program in the South Florida marketplace and we are excited to push this type of Player Development Model. The program will be an essential tool in helping us identify and develop top talent in the Homestead, Florida City, Miami and surrounding geographies which is one of the most talented regions in the country."
Vincenzo

Bernardo,

Naples

Elite

SC

–

Founder:

"Having a relationship with Miami AC is paramount for our players, coaches, and families. It will unlock unparalleled opportunities for our players and coaches to immerse themselves in high level soccer environments. Our focus is to elevate our club's offerings, and we firmly believe that aligning locally with Miami AC with the pathway to pro through an organization like USL will empower us to achieve precisely that. Today Naples Elite has taken a step forward and we are excited for what the future holds!"

We are extremely excited to be able to work with such high level directors and great organizations. We cannot wait to kick off the P2P program and look forward to providing some great offerings to member clubs. All P2P program club member partners will receive the following as becoming member clubs of the P2P program:
PLAYER
DEVELOPMENT
Increase the incentive for players to show up and train/compete on a daily basis to be pushed into a P2P session/camp.
Push players out of their comfort zones to compete with and against other local players for spots in elite events.
Extra training and match opportunities with and against the best players in the region throughout the year.
Having top local coaches from the P2P working with the players throughout the year.
Opportunity for top players to be on the professional track without the player leaving the club until 15-years-old.
Opportunity for coaching staff to run sessions and lead trips in the P2P.
Access to Miami Athletic Club USL Two and W League training sessions and matches.
Social media and club promotion possibilities.
Increased access and conversations for coaching development.
Talented Players interested in joining the P2P program must come from one of the six affiliated clubs.
For more information please visit the Miami Athletic Club website at www.MiamiAC.org and more information about the P2P Program HERE
# #